The ecological significance of the Bering Strait region is tremendous.
In July 2018, Audubon Alaska received a formal commendation from the U.S. Coast Guard for our work on a Bering Strait ship routing study which resulted in international recognition and protection for areas that Audubon identified as crucial for birds and marine mammals in the region.
The Bering Strait region is an ecological hotspot of global proportions. At the center, the narrow 53-mile-wide Bering Strait is the only waterway connecting the Pacific and Arctic Oceans. Major currents and sea ice fuel extremely high plankton and sea floor productivity which attracts more than 10 million nesting seabirds such as Least and Parakeet Auklets, as well as the global population of wintering Spectacled Eiders. Little Diomede, King Island, St. Lawrence Island, and the St. Lawrence Island sea ice polynya (an area of recurring open water) are all designated Important Bird Areas.
The Strait is a feeding grounds and migration corridor for hundreds of thousands to millions of marine mammals including bowhead, beluga, and gray whales; Pacific walrus; ringed, ribbon, spotted, and bearded seals; and occasionally polar bears. Many marine and anadromous fishes use the Bering Strait, including species important for subsistence such as Pacific salmon.
Because the Strait is the only passage between the Pacific and Arctic Oceans, all wildlife that live in the Chukchi and Beaufort Seas in the summer months funnel through the Bering Strait twice each year during spring and fall migration. Seasonal sea ice greatly constricts the passageway of what is already a narrow strait subdivided by islands and other navigational hazards. Wildlife, like ships, travel through open leads in the ice, greatly increasing the likelihood that ship traffic will encounter wildlife. Any environmental damage to the strait (such as a tanker spill) could have great impacts.
Due to climate change, shipping is increasing in the Strait, which is why Audubon Alaska worked with the Coast Guard, along with our partners, Pew Charitable Trusts, Oceana, Ocean Conservancy, World Wildlife Fund, Kawerak, Pacific Environment, Friends of the Earth, and others, to evaluate routing measures for increased vessel traffic and the protection of environmentally sensitive areas beginning in 2010. Audubon Alaska provided analysis and mapping that delineated "Areas to be Avoided" by vessel traffic to lessen the impact on crucial areas for birds and mammals across the Bering Strait. In 2018, these recommendations were formally adopted by the international maritime community making them mandatory for transiting vessels.
How you can help, right now
Donate to Audubon
Help secure the future for birds at risk from climate change, habitat loss and other threats. Your support will power our science, education, advocacy and on-the-ground conservation efforts.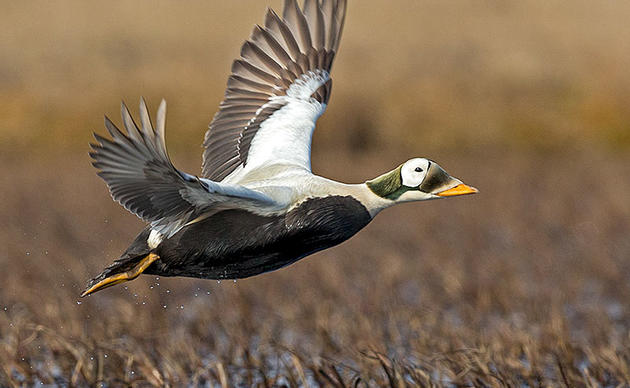 1% for the Planet
We are proud to be part of the 1% for the Planet network. If you own a business, please consider joining 1% for the Planet to support Audubon Alaska's conservation efforts.