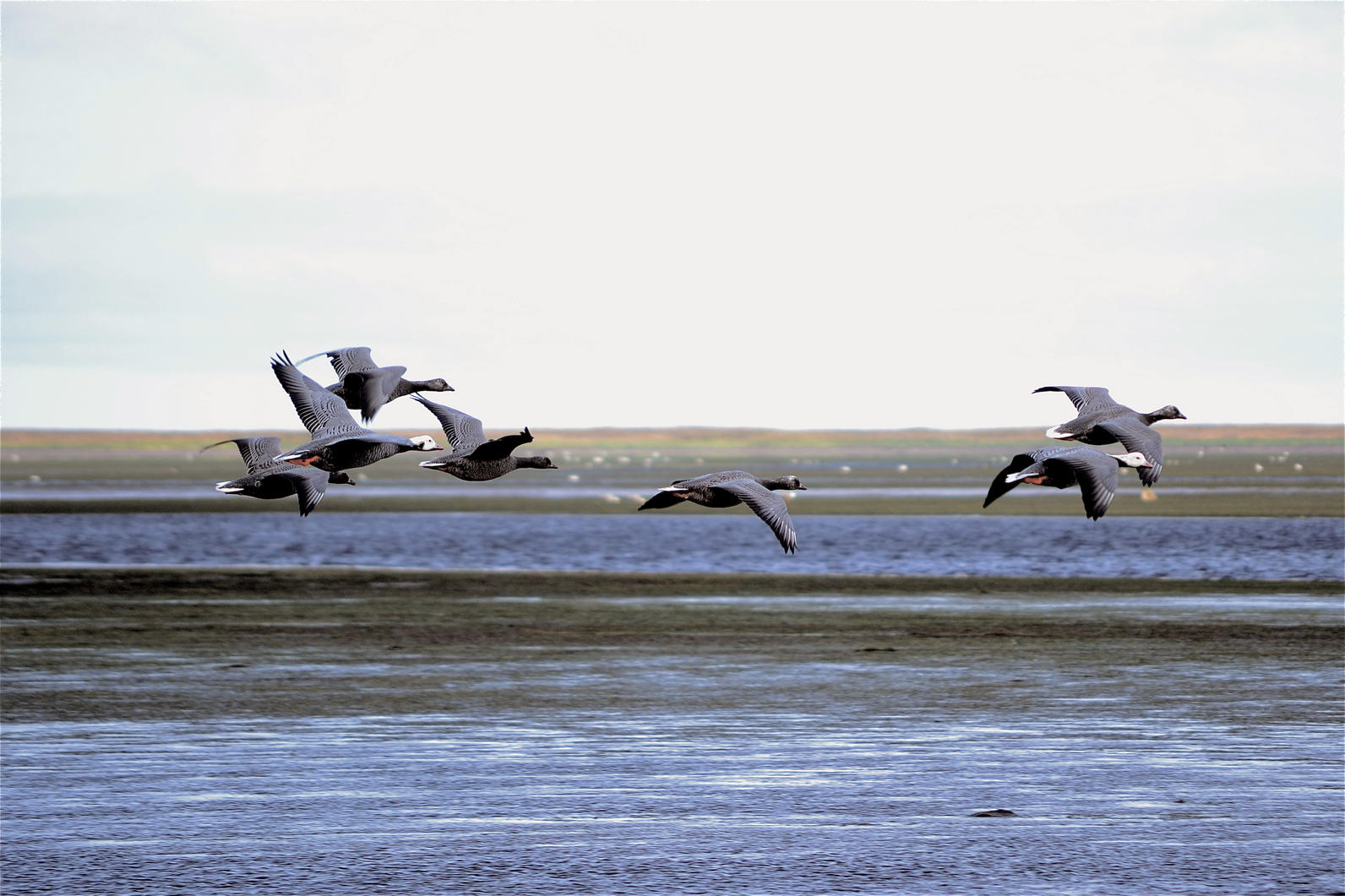 Anchorage, AK (March 29, 2019)—Today, a federal district court's decision voids a land exchange deal between the Department of the Interior and the King Cove Corporation that aimed to build a road through vital bird habitat in the Izembek National Wildlife Refuge. National Audubon Society together with Trustees for Alaska and eight other plaintiffs challenged the legality of this land exchange in a lawsuit filed on January 31, 2018.
"We have come a long way from a year ago, when the Interior Department ignored its own scientists and decided to bulldoze a 12-mile road into wilderness," said Natalie Dawson, executive director at Audubon Alaska. "Common ground exists between critical wildlife protections for some of the world's largest flocks of migrating birds and community needs of rural Alaskans, but not at the expense of an internationally important wetland refuge and with tremendous costs to American taxpayers."
The court held that the Department of the Interior failed to explain its decision to enter the exchange agreement with King Cove in light of its previous decision that alternatives to a road exist and that a road would cause significant environmental harm.
"Today's court decision provides a check and balance against the administration's blatant attempt to circumvent public process and environmental review," said Sarah Greenberger, Senior Vice President, Conservation Policy at National Audubon Society. "Paving the way for a road through Izembek National Wildlife Refuge would put significant bird populations at risk, particularly the Pacific Brant. Nearly every single one of these birds stops over in this refuge during migration each year. Any attempt to skirt the law and disrupt this vital habitat will be met with our strong opposition."
The other plaintiffs on the lawsuit are The Wilderness Society, Defenders of Wildlife, National Wildlife Refuge Association, Friends of Alaska National Wildlife Refuges, Wilderness Watch, Alaska Wilderness League, Center for Biological Diversity, and Sierra Club. Read the joint press release here.
Read more about Izembek here.
About Audubon
The National Audubon Society protects birds and the places they need, today and tomorrow, throughout the Americas using science, advocacy, education and on-the-ground conservation. Audubon's state programs, nature centers, chapters and partners have an unparalleled wingspan that reaches millions of people each year to inform, inspire and unite diverse communities in conservation action. Since 1905, Audubon's vision has been a world in which people and wildlife thrive. Audubon is a nonprofit conservation organization. Learn more how to help at www.audubon.org and follow us on Twitter and Instagram at @audubonsociety.
Since 1977, Audubon Alaska's mission is to conserve the spectacular natural ecosystems of the state, focusing on birds, other wildlife, and their habitats, for the benefit and enjoyment of current and future generations. Audubon Alaska uses science to identify conservation priorities and support conservation actions and policies, with an emphasis on public lands and waters. Audubon Alaska is a state office of the National Audubon Society. Learn more at www.AudubonAlaska.org.
Media Contacts
Rebecca Sentner, Communications Manager, Audubon Alaska, rsentner@audubon.org, 907.276.7034