The Ecological Atlas of the Bering, Chukchi, and Beaufort Seas receives three awards from Esri.
ANCHORAGE, AK (August 16, 2018) –Audubon Alaska's Ecological Atlas of the Bering, Chukchi, and Beaufort Seas received three awards—Best Map Series or Atlas Award; Best Cartography Award; and ICA/IMIA Excellence in Cartography Award—from Esri, the market leader in geographic information system (GIS) software. These prestigious awards recognize outstanding work in GIS and cartography and are presented each year at Esri's annual User Conference which attracts over 18,000 industry professionals.
This award-winning Ecological Atlas is a comprehensive, trans-boundary atlas containing over 100 maps of Arctic marine mammals, seabirds, sea ice, subsistence, and more. Using species maps, it allows people to explore this area of the Arctic by visually describing the seasonal use, activity, and movement of marine species, such as puffins, Pacific walruses, and yellowfin sole.
The maps in the Atlas were produced using Esri's ArcGIS software and Adobe Illustrator. They are a synthesis of data from multiple studies, species, decades, and seas which is then combined into composite layers to show broad-scale ecological patterns.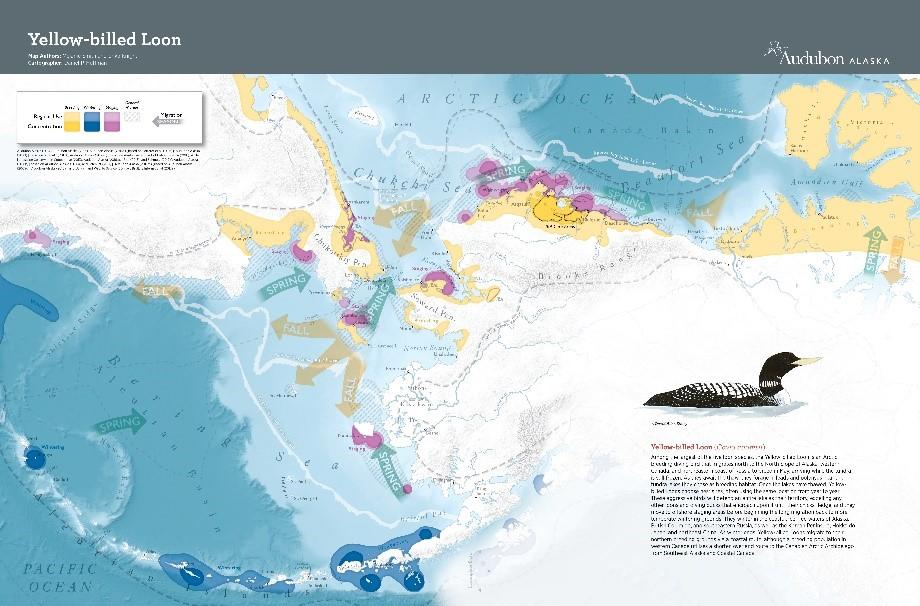 Riley Peake, Learn ArcGIS team lead at Esri, said that the judges were influenced by the reactions of conference attendees as they viewed the Ecological Atlas in the event's Map Gallery. "Beautiful!", "Outstanding!", and "The colors are luscious!" were a few of the specific reactions he shared while presenting the awards.
"It is an honor to receive this recognition from Esri," commented Melanie Smith, director of conservation science at Audubon Alaska and co-author of the Atlas. "These awards are a celebration of the cooperative effort of hundreds of researchers and a long list of individuals, organizations, and agencies. Each of which played a crucial role in the creation of the Ecological Atlas."
The Ecological Atlas of the Bering, Chukchi, and Beaufort Seas is authored by Melanie A. Smith, Max S. Goldman, Erika J. Knight, and Jon J. Warrenchuk, with cartography by Daniel P. Huffman of somethingaboutmaps. The project was made possible by the generous support of the Gordon and Betty Moore Foundation. Audubon Alaska is able to make the Atlas available for free thanks to their support.
LINKS:
About Audubon Alaska
Since 1977, Audubon Alaska's mission is to conserve the spectacular natural ecosystems of the state, focusing on birds, other wildlife, and their habitats, for the benefit and enjoyment of current and future generations. Audubon Alaska uses science to identify conservation priorities and support conservation actions and policies, with an emphasis on public lands and waters. Audubon Alaska is a state office of the National Audubon Society. Learn more at www.AudubonAlaska.org.
About Esri
Esri, the global market leader in geographic information system (GIS) software, offers the most powerful mapping and spatial analytics technology available. Since 1969, Esri has helped customers unlock the full potential of data to improve operational and business results. Today, Esri software is deployed in more than 350,000 organizations including the world's largest cities, most national governments, 75 percent of Fortune 500 companies, and more than 7,000 colleges and universities. Esri engineers the most advanced solutions for digital transformation, the Internet of Things (IoT), and location analytics to inform the most authoritative maps in the world. Visit Esri at esri.com.