Anchorage, AK (May 9, 2022) - Each spring, over five billion birds arrive in Alaska during the great spring migration to feed, breed and nest in crucial habitat across the state during the summer months. This year, Audubon Alaska teamed up with Anchorage-based artist and filmmaker Max Romey to celebrate the journeys taken by eight of these determined birds.
Through bespoke illustrations, Romey also shined a light on the importance of key conservation areas for these birds. These sites include the Tongass National Forest, Bristol Bay, Izembek National Wildlife Refuge, Arctic National Wildlife Refuge, and the Western Arctic.
Alaska is home to more than 470 species of birds with more than 250 species migrating to Alaska as temperatures become warmer. Birds follow numerous flyways north to feast on an abundance of food and to utilize the region's pristine habitat.
"As a trail runner and artist, I have always been seeking inspiration from long distance athletes. It took me 28 years to realize that one of the most incredible examples was at home in Alaska the whole time," said Max Romey. "I just had to look up."
Threats, however, are increasing as birds face climate change, industrial-scale logging, oil development, boreal bioscope loss, and other human impacts that disrupt their food sources and critical habitat.
To help address these threats, Romey created two bespoke illustrations that you can take home to your own nest with half of all proceeds going to Audubon Alaska's policy and advocacy work.
"Migratory birds inspire wonder and connect people and cultures across vast geographies," said David Krause, Interim Executive Director at Audubon Alaska. "As billions of birds from across the world arrive in Alaska this spring, let's celebrate the many ways they enrich our communities."
Pre-order a 11x14 limited edition print signed by Max today by emailing audubonalaska@audubon.org. Each illustration costs $45 each and is printed on high-quality and environmentally-friendly heavyweight watercolor paper.
"Alaska's Migratory Birds Poster" features 8 birds that fly thousands of miles round trip to key conservation areas listed below. The "Eggs of Alaska's Birds" poster features both migratory and resident birds, along with species featured on Audubon Alaska's 2017 WatchList detailing declining bird populations in Alaska.
You can also visit Audubon Alaska's social channels on Twitter, Facebook, and Instagram to enjoy unique moving sketches that connect birds to key conservation areas outlined below:
Arctic (Arctic Refuge & Western Arctic)
· Whimbrel: Approximately 8,000 miles round trip from the East Coast of Mexico to the North Slope
· Pectoral Sandpiper: Approximately 1,800 miles round trip from Argentina to the Arctic Refuge
Izembek National Wildlife Refuge
· Brant: Approximately 8,500 miles round trip from Washington State to the Arctic Archipelago (Northern Canada)
· Arctic Tern: Approximately 30,000 miles round trip from Antarctic to Izembek
Bristol Bay
· Tundra Swan: Approximately 8,000 miles round trip from Central California to Bristol Bay
· Marbled Godwit: Approximately 5,000 miles round trip from Washington, Oregon and Central California to Bristol Bay
Tongass National Forest
· Surf Scoter: Approximately 8,000 miles round trip from Baja to the Tongass and Northwestern Canada
· Pacific Loon: Approximately 6,000 miles round trip Baja California to the Yukon Delta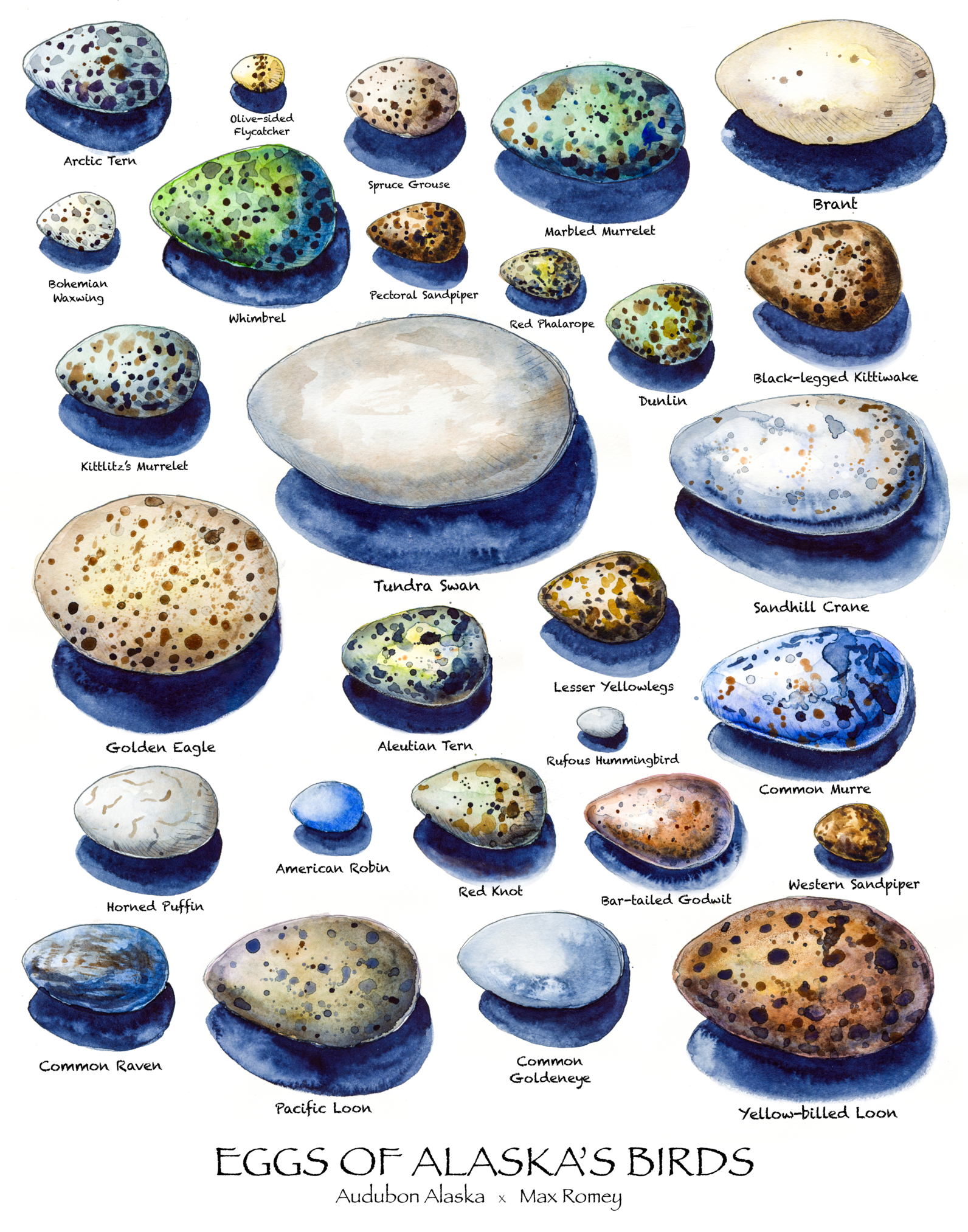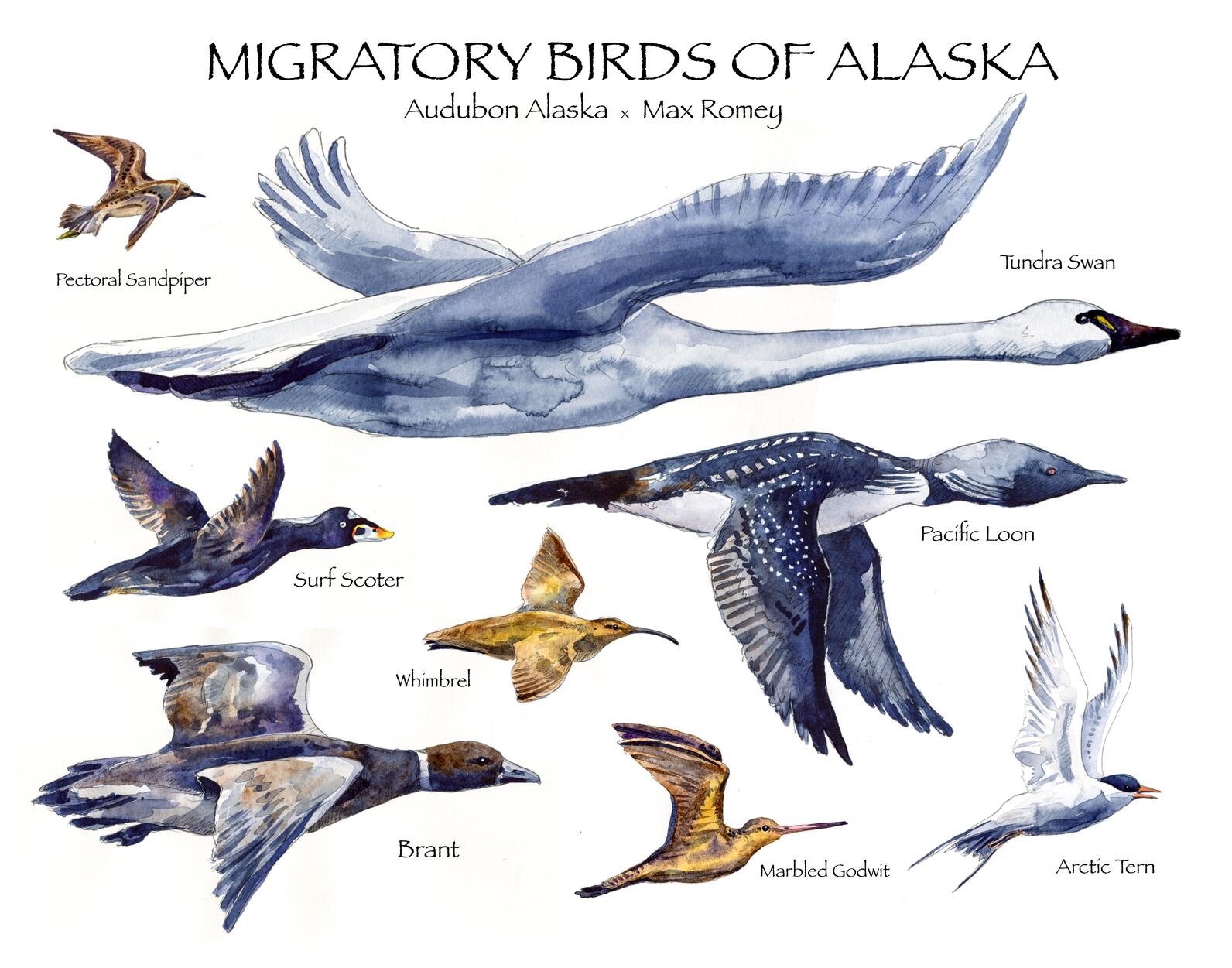 ###
Media Contact:
Katrina Peavey, Audubon Alaska, 907-433-5300, katrina.peavey@audubon.org
About Audubon Alaska
Since 1977, Audubon Alaska has been conserving the spectacular natural ecosystems of Alaska for people, birds, and other wildlife. Audubon Alaska uses science to identify conservation priorities and support conservation actions and policies, with an emphasis on public lands and waters. Audubon Alaska is a state office of the National Audubon Society. Learn more at ak.audubon.org and on Instagram (@audubonalaska), Twitter (@audubonalaska1) and Facebook.
The National Audubon Society protects birds and the places they need, today and tomorrow. Audubon works throughout the Americas using science, advocacy, education, and on-the-ground conservation. State programs, nature centers, chapters, and partners give Audubon an unparalleled wingspan that reaches millions of people each year to inform, inspire, and unite diverse communities in conservation action. A nonprofit conservation organization since 1905, Audubon believes in a world in which people and wildlife thrive. Learn more at www.audubon.org and on Facebook, Twitter and Instagram @audubonsociety.