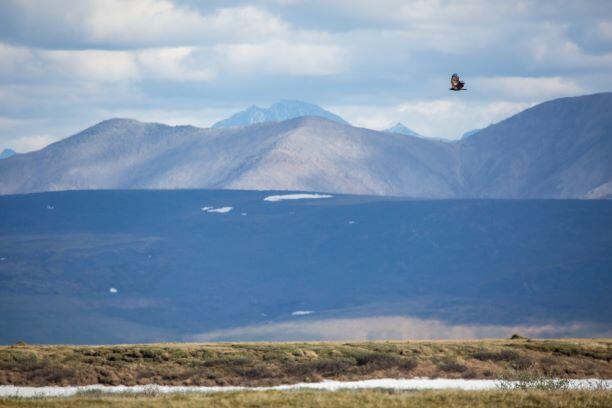 Demonstrating blatant disregard for human rights, international public opinion, and our climate future, the Trump administration will be taking the next step toward a lease sale in the coastal plain of the Arctic National Wildlife Refuge, known and protected by the Gwich'in Nation as "Iizhik Gwats'an Gwandaii Goodlit," the Sacred Place Where Life Begins. The Interior Department will reportedly issue a "call for nominations" as soon as Monday asking for oil company input on what areas of the Arctic Refuge should be leased.
The administration continues its rushed and clumsy attempt to sell off sacred and public lands before the end of Trump's term, despite several lawsuits challenging the legality of the leasing program, filed by Indigenous organizations, tribes, conservation groups, and state attorneys general. As the economic future of the oil industry, especially in the Arctic, becomes increasingly dire, the list of reasons to oppose this lease sale continues to grow.
Alaskans have always stood up to protect the coastal plain, and we remain committed to standing in solidarity with the Gwich'in Nation.
ORGANIZATIONAL QUOTES:
"The oil and gas lease sales on the Arctic Refuge demonstrate the Trump Administration's complete disregard for the human rights of the Gwich'in & Inupiat people and our ways of life that depend on the health of the Refuge's coastal plain. In the Arctic, our peoples are being heavily impacted by a climate crisis due to fossil fuel extraction, which we cannot afford to continue. The adverse impacts of oil development in these sacred and critical caribou calving grounds will be heavily felt by Gwich'in and Inupiat villages. As a Gwich'in person, I know my family's food security, culture, spirituality and ways of life are at stake. Gwich'in people will not compromise and we will defend our way of life for future generations until this sacred land is permanently protected," said Jody Potts (Han Gwich'in), Native Movement Regional Director
"The Arctic National Wildlife Refuge is sacred land that sustains not just the Gwich'in and Iñupiat Peoples but is one of the last untouched ecosystems in the world. The global consciousness is shifting into an equitable and just transition to sustainable economy, yet the United States continues to ignore science and human rights. Indigenous Peoples have passed down stories for generations of the climate crisis we are currently facing. Without Indigenous leadership and values going forward we are left with empty promises, boom and bust economy, and endangering the health and safety for all," Director of Sovereign Iñupiat for a Living Arctic (SILA) Siqiñiq Maupin said. "Iñupiat People value all life and the narrative of our Iñupiaq Nation supporting this type of project goes against all our principles, ways of life, and who we are. SILA stands in solidarity with the Gwich'in for protection of the Porcupine Caribou birthing grounds."
"The Trump administration opening up oil lease sales is devastating to our way of life as Gwich'in People," said Quannah ChasingHorse Potts, a member of the Gwich'in Youth Council. "The Gwich'in people's identity is connected to the land and animals. We have lost so much we can't afford to lose more. Please stand with the Gwich'in and help us prevent oil extraction in the Arctic Refuge, the sacred place where life begins."
"The agency asking oil companies to nominate what land in the coastal plain of the Arctic Refuge to industrialize and exploit is beyond misguided," said Brook Brisson, senior staff attorney with Trustees for Alaska. "This administration continues to disrespect human rights, the health of wildlife and people, the climate suffering caused by the fossil fuel industry, and the wishes of the majority of Americans who want these Arctic lands protected. Today's action tries to advance a process that has omitted science, shortchanged Indigenous input and concerns, and put political gain and profit before the health of people and life-giving lands. We can't wait to see this administration in court."
###
Contacts:
Dawnell Smith, communications director, Trustees for Alaska, dsmith@trustees.org, 907-433-2013
Jody Potts, Native Movement, jody@nativemovement.org 907-960-2002
Erica Watson, Northern Center, erica@northern.org, 907-452-5093
Rebecca Sentner, Audubon Alaska, rebecca.sentner@audubon.org, 907-276-7034