As the plane touched down on the runway in Yakutat, the captain's voice came over the loudspeaker, announcing that it was 9:48 a.m. local time, that the sun was shining, and, at long last, that it was safe to use our cell phones. I scrolled to the settings on my iPhone and flicked off airplane mode, anticipating the familiar buzz as work emails and text messages from my mother trickled in. Instead, "SOS" appeared in tiny letters at the top right corner of the illuminated screen. That's right, I thought, no service.
No service or cellular data are common themes across Southeast Alaska. Even in Juneau, the region's biggest city and the state capital, tourists experience unreliable coverage. In the rural towns across the region and Prince of Wales, Revillagigedo, and other remote islands, coverage can be practically nonexistent. This is one of the major issues Audubon Alaska sought to address in creating the Southeast Alaska Birding Trail mobile application.
The trail itself—not a physical trail but rather a virtual guide to birding sites across Southeast—represents five years of visioning, research, outreach, and compilation, but without a working internet connection, there was no way for Southeast visitors to access it.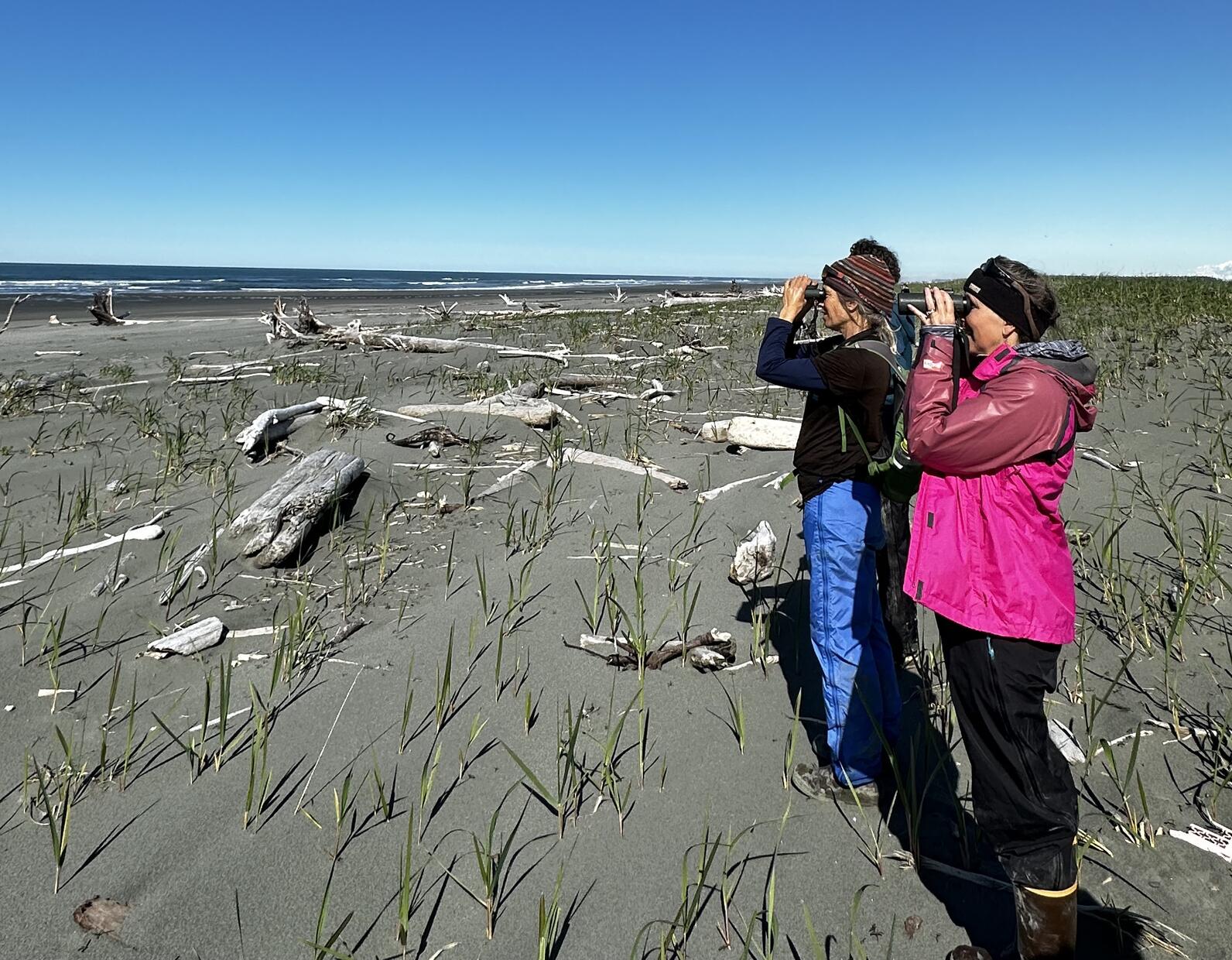 Enter the mobile app, which contains all the information visitors need to bird their way through Southeast sans internet. The app features an offline basemap and information about the 18 communities and nearly 200 sites comprising the trail. This includes written directions to each site, commu- nity-level species lists detailing seasonal abundance for more than 300 species, and information about amenities like parking, restrooms, trails, accessibility, and fees. All this information is downloaded to your phone the first time you open the app (yes, you do need to be connected to cellular data or wifi for the initial download), so you can access it offline—anytime, anywhere.
Other offline perks include feature searches, community bookmarks, and access to your current location. Of course, there are some additional features that work best while connected to the internet. These include navigation to trail sites via Google Maps, access to birding hotspots and data via the eBird website and eBird app, and links to local resources—like national, state, and local parks offices, chambers of commerce, local medical centers, and more—via the Audubon Alaska website.
There are more features in the works for the mobile application, currently in version 1.1. Updates this summer will include a more robust offline search widget and detailed basemaps for individual communities, providing high-resolution aerial imagery while keeping download sizes small. For next season, expect to see expanded trip planning features, such as species and site wish lists, recommendations, and discounts for local businesses—like guides and outfitters—and a birding trail passport for keeping track of the sites and communities you have visited.
The Southeast Alaska Birding Trail mobile application is currently available on phones and tablets in the App Store for iOS and Google Play for Android.