Gear List and Tips
When heading out into remote areas of Alaska, it is important to be prepared. Both weather and wildlife can be unpredictable. Bears are a fact of life here, so learning to be bear aware is important for your safety and the safety of the bears.
Here is a list of gear, we suggest including for your trip out on the Southeast Alaska Birding Trail.
Binoculars: (full-size, 8 or 10 x 42 is perfect). Having a scope is always a plus, and there are ample opportunities to use one, regardless of where you are on the Southeast Birding Trail. Just remember you have to carry it with you when planning the length of your hike.
Rain Gear: A good quality two-piece rain suit with a hood is a must. It should be waterproof and breathable, with factory-sealed seams. Plastic ponchos or vinyl rain suits tear easily and are not recommended.
Insect Repellent: During early summer, the mosquitoes in Alaska can be quite thick in areas. We recommend bringing either an insect head-net or insect repellent with you. The varieties with higher percentage of DEET tend to be the most effective, but natural repellents with citronella are more gentle on your skin. Creams and pumps are generally more eco-friendly than aerosols.
Shirts: T-shirts, flannel shirts, and light-weight long sleeves are all good options to pack. Think layers in Alaska, and omething that dries quickly is a must.
Warm Jackets & Fleece: A fleece or pile jacket and/or a wool sweater are great to layer for extra warmth. A wool hat is always nice to have handy.
Footwear: Comfortable, lightweight and water repellent materials are best suited for the terrain you'll experience on your visit to Alaska. An alternative to hiking boots (and all other footwear in Alaska) is to invest in a pair of Xtratuf calf-height muck boots. You'll fit right in with the locals. If your feet are cold, you'll be cold. Wool socks and synthetic liners provide extra comfort and warmth.
Day Pack: A pack is useful to take along on the many opportunities for day hikes in Alaska. We also recommend bringing along a quart water bottle, too.
Pants: You will want to bring a couple pairs of comfortable and durable pants. Something that dries quickly is a must. We recommend bringing along a pair of shorts, too.
Hats: A brimmed hat is recommended for sun protection, and don't forget sunscreen and sunglasses!
Camera with extra memory cards and batteries
Reusable water bottle filled with water
Watch/alarm clock: With so much daylight, it's easy to lose track of time.
Headlamp/flashlight
Rechargeable phone charger with charging cable
How you can help, right now
Donate to Audubon
Help secure the future for birds at risk from climate change, habitat loss and other threats. Your support will power our science, education, advocacy and on-the-ground conservation efforts.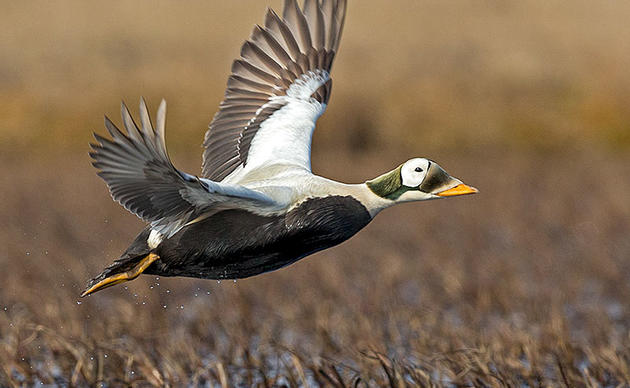 1% for the Planet
We are proud to be part of the 1% for the Planet network. If you own a business, please consider joining 1% for the Planet to support Audubon Alaska's conservation efforts.