No one likes to fight. It is much easier to walk into a room and build consensus that begins with common ground. We like to be able to say "Yes, this is possible" instead of "No, it isn't," but when lies are elevated and science is ignored, when the will of the majority is handed over to the profits of the few, we cannot sit idle and hope that silence will bring consensus, reason, hope, and resolution. A time emerges when we have to fight for what we believe, for what we value, for our common ground that is the soil, plants, seeds, rivers, and streams of our past, present, and future world. The time for this action is now, and because of you, we can be here to do this work.
Last month, we filed several lawsuits to protect important places for wildlife and people across Alaska. In early August, we sued the Department of Interior over the Ambler Road project, which received additional funding from the Alaska Industrial Development and Export Authority (AIDEA) to move forward. Instead of using CARES Act funding to help communities cope with COVID, the state of Alaska allowed AIDEA to use CARES Act funding to push forward this controversial road project through one of the world's remaining intact boreal forest wetland landscapes and the southern boundary of the largest wilderness region in the U.S.
Then, we filed two more lawsuits right after each other to protect the Arctic Refuge and the Western Arctic National Petroleum Reserve (NPR-A). We could not allow the Department of Interior to ignore the science of its own agencies and the impacts of climate change for the Arctic's people and wildlife. So we stand with our conservation colleagues, with the Gwich'in and Inupiat Peoples of the Arctic who want to protect the world's largest migratory caribou herd, and with attorneys general from 15 states across the country in this fight to save the Arctic from destructive development. And in early September, the United Nations Committee on the Elimination of Racial Discrimination started to investigate the Arctic Refuge oil and gas leasing program for reasons that it was done "without the free, prior and informed consent of and adequate consultation with Gwich'in Indigenous Peoples, despite the serious harm such extractive activities could allegedly cause."
We are here to ask you to take action when it matters. In August, we sent action alerts to members across the country to stand up for protections against the proposed Pebble mine and over 39,000 members responded by sending letters to the Environmental Protection Agency (EPA) asking for a "VETO" to the permit process under the Clean Water Act. It shows that Pebble Mine is not only an Alaska issue, it is also a national priority to protect Bristol Bay. You can still take action on this issue here! Earlier this week, we learned more about the fraudulent permitting process for the Pebble Mine and the expected expansion of the project over its lifetime, something the developers have tried to hide. It shows how politics are driving all of these environmental processes, and the will of the people is being ignored in exchange for approving industrial projects like Pebble Mine with no thought to our future or the future of Alaska's birds and other wildlife.
We are once again asking you to take action. This time, we ask you to protect the old-growth, roadless forests of the Tongass. The Forest Service just released their decision to move forward with opening the Tongass National Forest's roadless areas to logging. We need you to send comments to protect these places for our present and future, and for Alaska's Indigenous Peoples who are requesting a new planning process for the Tongass that supports their traditional use of the region.
We are also here for Alaskans. Just last week, we submitted comments to the Army Corp of Engineers requesting that they not permit a dredging project in Safety Sound. Members and community partners in Nome reached out with their concerns, and we worked with one of our own member volunteers to craft a response that you can read here. This is an important issue as it would destroy 300 acres of estuary habitat in Safety Sound. This statewide Important Bird Area, known for nesting Aleutian Terns, is an important area for thousands of migratory birds, drawing in birders from around the world to Nome each year. Aaron Lang, one of our Board members, is an Alaskan guide who brings clients to this amazing area.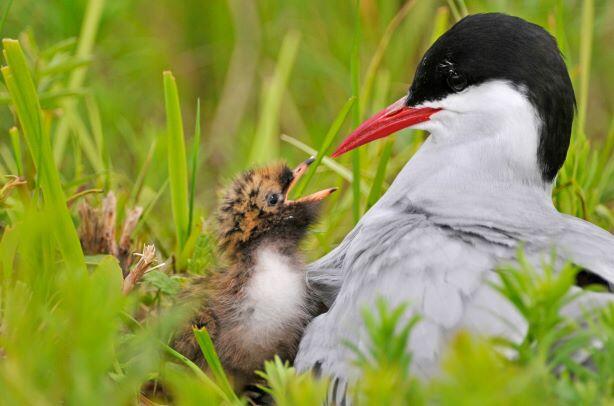 Now is a time for dissent and determined defense of Alaska's wildest landscapes. We must protect those places that are vital to communities that rely on salmon, birds, wetlands, and watersheds, and are requirements for the wildlife who feed us during this harvest season. We thank you for taking our hand, lending yours, and walking with us into the future with resolute strength rooted in resistance and fed by the light of a future sun. This is why we are here—together.