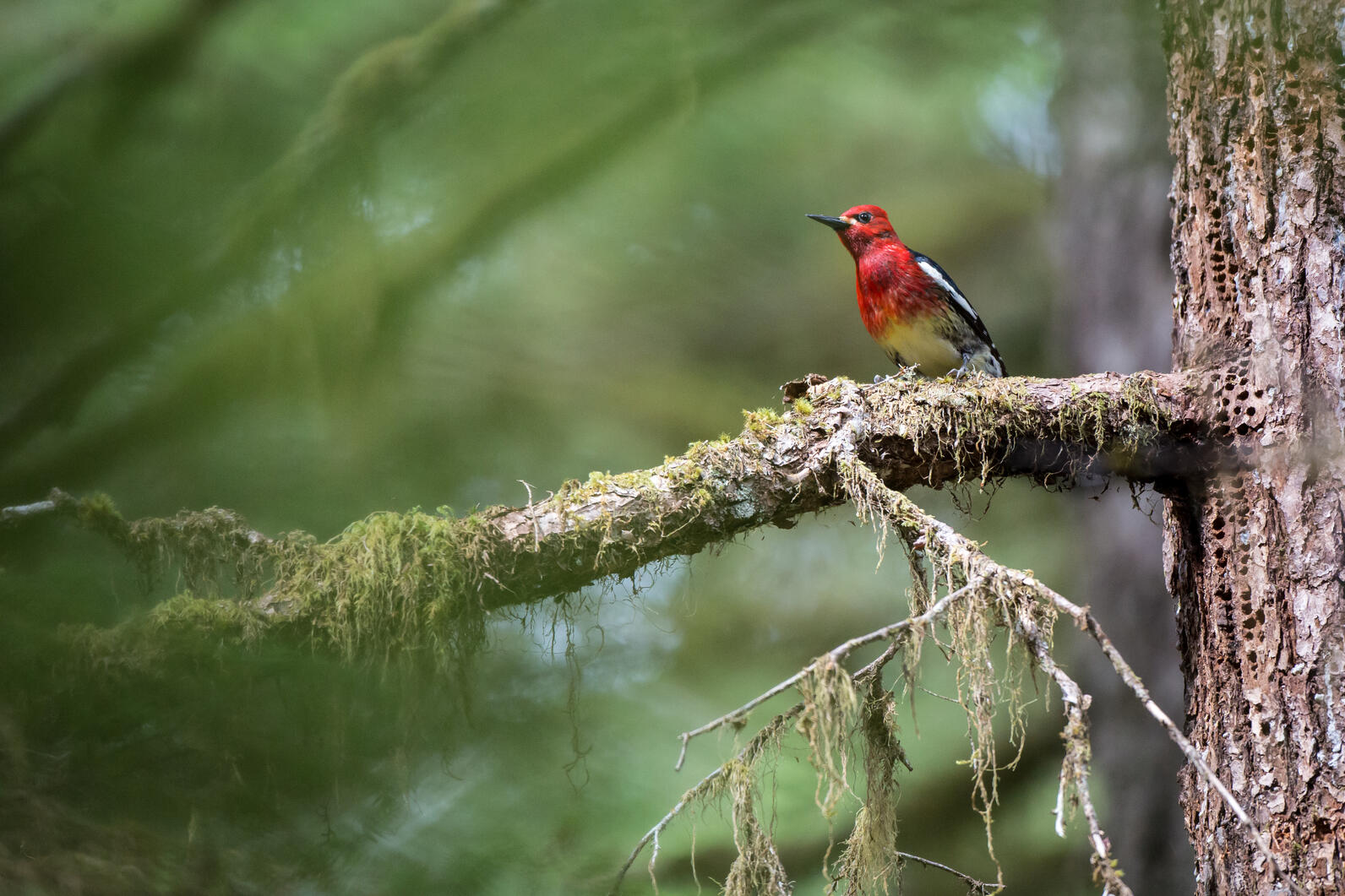 The Tongass's 17 million acres—the ancestral homeland of the Tlingit, Haida, and Tsimshian peoples—is the country's largest forest carbon sink, holding approximately 20% of all carbon stored in the United States National Forest system according to National Audubon Society's 2021 Natural Climate Solutions Report.
But it's also home to hundreds of species of birds thanks to 11,000 miles of shoreline, old-growth and mature forest, and multiple wetland areas. Those species include Audubon priority birds like the Marbled Murrelet, Northern Goshawk, and Spruce Grouse. Others range from Common Ravens, American Crows, and Bald Eagles to Greater Yellowlegs, multiple gull species, and songbirds like the Red-breasted Sapsucker, Swainson's Thrush, and Chestnut-backed Chickadee—all found on the Southeast Alaska Birding Trail.
Zooming out of Southeast, the Tongass also "hosts about 70% of the species known to occur in Alaska, or about 40% of the bird species found in North America," according to Audubon Alaska's Ecological Atlas of Southeast Alaska.
So, what does the Roadless Rule reinstatement mean for birds? It fully restores Roadless Rule protections for more than 9.3 million acres of the Tongass.
The 2001-established Roadless Rule is one of the most significant conservation measures adopted to protect the United States's national forests. Applicable nationwide, it prohibits industrial logging and most road-building in intact areas of the forest system, with a few exceptions. The Tongass was protected under this national rule from the start with the Clinton administration but was exempted first under the Bush administration and later under the Trump administration. In October 2020, the Trump administration canceled the application of the nationwide Roadless Rule to more than 9 million previously protected acres in the Tongass.
But in summer 2021 following some inspiring outcry (members of the public submitted nearly half a million comments— more than 60,000 coming from Audubon members), the Biden administration announced it would "repeal or replace" the Alaska-specific Roadless Rule. And it did just that, reinstalling protections on those 9 million acres of roadless areas from logging and road-building in Southeast Alaska.
Celebrate for now, but there's work to be done to make the Roadless Rule more of a Roadless Law. One solution is the Roadless Area Conservation Act (RACA) or any legislation that would permanently protect the national Roadless Rule, keeping safeguards in place for close to 60 million acres of national forest lands—and a lot of vital bird habitat.