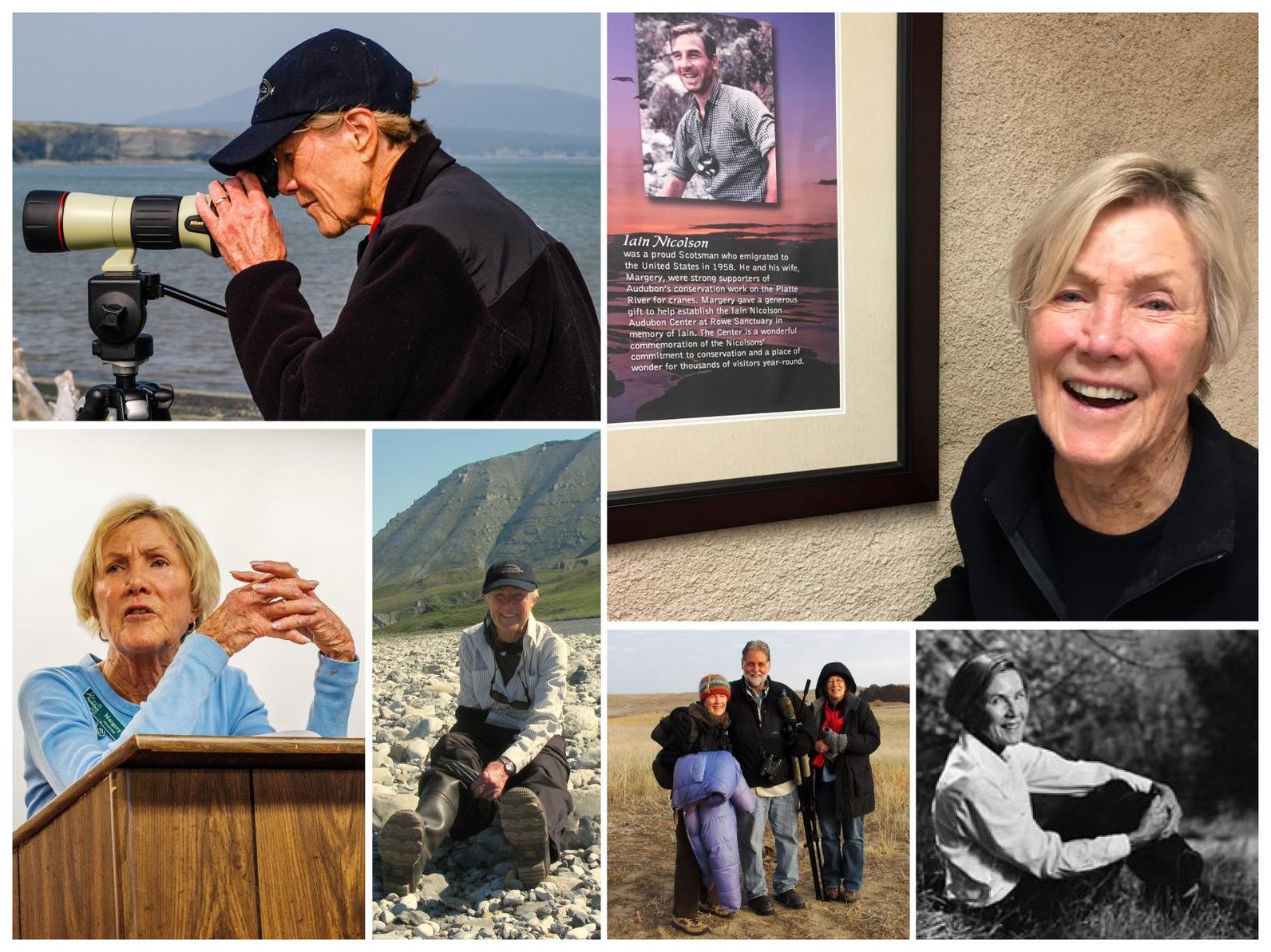 Margery Nicolson's generosity was instrumental in conservation work across the Audubon network. She was an accomplished scientist and a dear friend to many at the sanctuary and at Audubon.
Margery's long-time love of science led to her completing a Master's in Chemistry from Stanford University and a PhD in Molecular Biology from Baylor University in Texas. In 1960, while living in Texas, she met her husband, Iain, at a folk dancing class. Originally from Scotland, Iain's deep love of the environment fit perfectly with Margery's interest in science and travel.
The couple first traveled to Audubon's Rowe Sanctuary in the late 1990's to view the Sandhill Crane migration. They fell in love with the cranes and immediately connected to Audubon's mission. In a 2012 interview with the National Audubon Society she stated, "We were just enchanted… It's a spectacle you won't see anywhere else in the world."
After Iain passed away in 2001, Margery made a significant contribution making it possible for Audubon to build a center, the Iain Nicolson Audubon Center. The construction brought on new programs, events, and hosting opportunities that would not have been possible without her.
Margery's generosity helped create a bright future for cranes and the Platte River for nearly 20 years. During this time she was also a dedicated volunteer during crane season. Whether she was leading a crane tour or simply restocking the gift shop, she brought joy to everyone around her.
"She never missed an opportunity to visit Rowe and volunteer," said Taddicken. "She was a dedicated volunteer, advocate for conservation, and a wonderful friend."
Her passion for traveling brought her across the country, igniting a passion for birds in multiple states.
She was one of the original board members of Audubon Alaska when it was formed in 2001. She served on the Alaska state board for several terms and remained a strong supporter for the rest of her days. She is remembered by John Schoen, Audubon Alaska's current board chair as "a significant force on our board and provided much valuable advice and counsel to the staff, both as a pioneering scientist and as a bird enthusiast."
Over the years, she joined other Audubon Alaska donors on many wilderness adventures throughout Alaska. From floating down a river in the Arctic National Wildlife Refuge to birding in Denali National Park to bear viewing at the McNeil River to whale watching along the coasts of the Tongass National Forest, Margery was game for anything. She had a great love for Alaska and passion for conservation of its wildlife and public lands.
She was also deeply involved in Audubon's work in her home state of California, where she served several times on the board of directors. Andrea Jones, director of bird conservation for Audubon California, says she had a special connection to the Eastern Sierra.
"I remember standing with Margery in the Alabama Hills, with Mt. Whitney as our back drop," said Jones. "We talked about Audubon's work at Owens Lake, which Margery supported, and I listened to Margery wistfully talk about her long treks backpacking in the Sierra with her husband. I remember her drifting off, and I think she was back in those mountains. The eastern Sierra habitats and Owens Valley held a special place in her heart."
But her time with Audubon only scratches the surface of her conservation work. She also made contributions and served on boards at the International Crane Foundation and several other environmental organizations.
Audubon will continue Margery's legacy of conservation in Nebraska, across the western states, and in Alaska—all places she loved.
In lieu of flowers and cards, Margery hoped that those who knew her would give a gift in her name to the Iain Nicolson Audubon Center at Rowe Sanctuary.