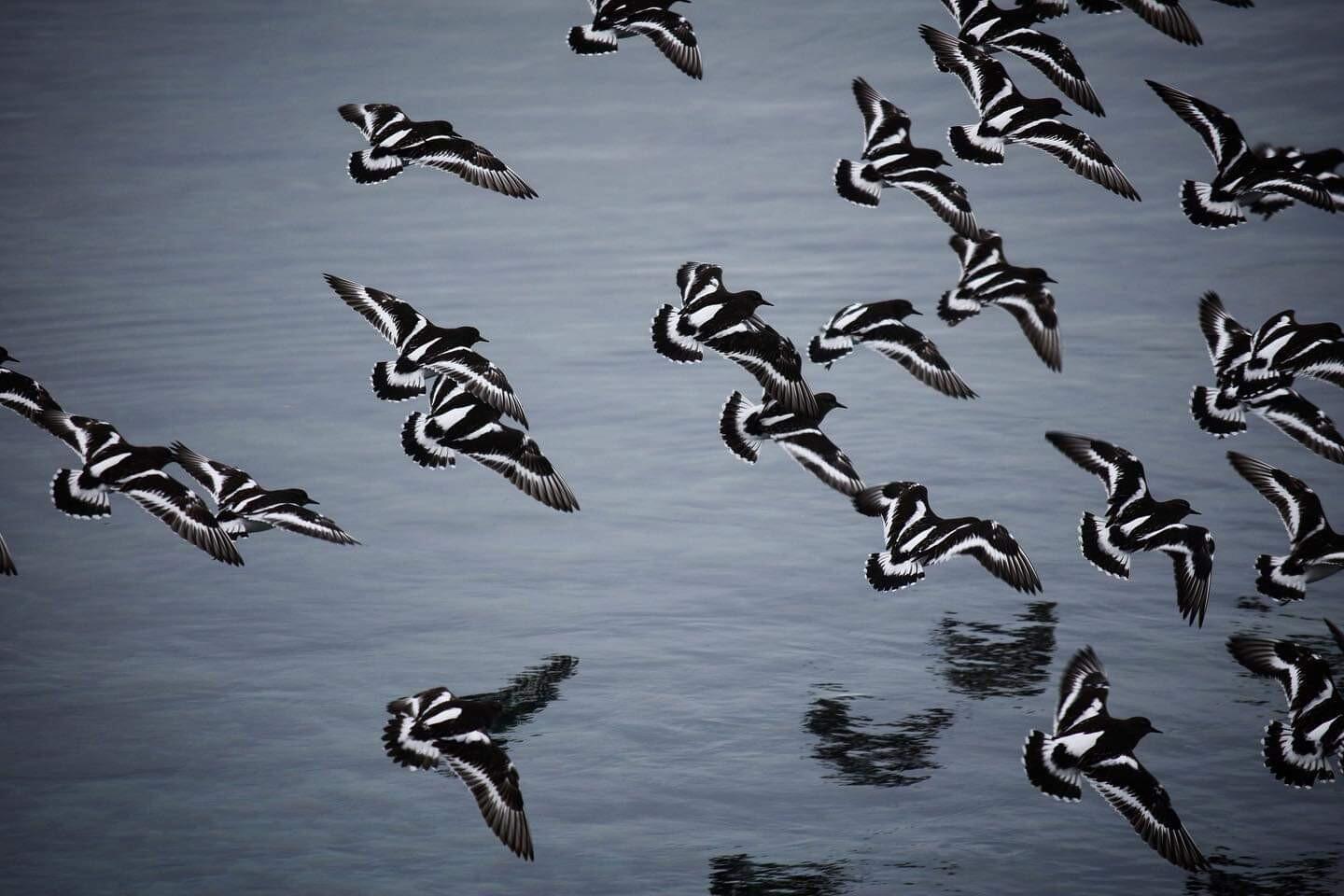 One of the wonders of our world is a flock of birds moving together in perfect harmony. We have names to describe this collective behavior, like the mystical musing "group soul" or a murmuration of starlings. But standing on the tideflats of Camp Island at the mouth of LeConte Bay in the Tongass National Forest each July, my student companions, guests, and I could only whisper "magic" as dunlins flew in front of us as if riding waves in the sky. A thousand birds moving together is an intimate dance between individuals. One turns, and others anticipate the turn, moving together in a chorus line. Even though some researchers believe that each bird is actually operating in "a selfish herd" where being part of a flock is really just an expression of self-interest for survival, it's hard to ignore the synchronicity. Beauty is moving together in migratory unison. It helps a flock survive, thrive, and adapt to change.
Right now, we are a flock of individuals in need of synchronicity in an intergenerational world calling for us to work together. As President Biden said during his inauguration speech, "The cry for survival comes from the planet itself. A cry that can't be any more desperate or any more clear." In an immediate answer to this cry, the new administration signed a suite of executive orders stretching as an arc of change for the challenges we need to address: a pandemic that has already taken more than 425,000 lives in our country, systemic racism emboldened by national leaders, violence against democracy, and a climate crisis bringing ecological collapse. These are not separate and equal challenges, but rather a cascade of crises linked together and in need of solutions that will not come from individual ingenuity—but rather from collective action. We have our cues. One of the executive orders titled "Protecting Public Health and the Environment and Restoring Science to Tackle the Climate Crisis" lays out a suite of actions the federal agencies will undertake to review and undo Trump-era deregulation and public lands and waters industrial development.
The Biden administration's Department of Interior, whose named leader, Rep. Haaland, is the first Native American cabinet member in U.S. history, begins their work to undo the damage across Alaska. They will halt and review the oil and gas leasing program on the coastal plain of the Arctic Refuge. They are reviewing the BLM's actions in its last days in office to open millions of acres of BLM lands across the Kobuk, Seward Peninsula, Bering Sea, and Western Interior planning areas to mining and oil and gas development. The administration will review the rollback of the Tongass Roadless Rule and re-establish the Northern Bering Sea Climate Resilience Area. And all of these actions will be done with a focus on racial equity and justice. These actions will establish leadership within the agencies who reflect the communities on which the inequities, lack of consultation, and botched public processes have been felt the strongest over the last four years.
This arc of change will envelop our work as well. We will produce science with our partners that reflects the full expression of a "body of knowledge" from which the definition of science is born. This can be the co-production of knowledge and the sharing of information through different forms of media. We will be emphasizing the link between climate change and protecting Alaska's lands and waters. We will balance the work between encouraging technology for clean energy futures and recognizing the need for energy conservation, which is much harder in a human world that continues to expand. These are the challenges, the balances of our times. We will take our cues from others, moving in synchronicity, flexible and adaptive to our changing environments and to the needs of others, motivated by our desire to work together and take flight.