Birds
2021 Audubon Alaska Bird of the Year
Meet the candidates!
It's time to meet this year's candidates. Read their descriptions below and then cast your vote by either clicking here or on the VOTE NOW section at the bottom of the page.
| | |
| --- | --- |
| Photo: Milo Burcham. | WILLOW PTARMIGAN: Hello! I am a Willow Ptarmigan and clearly the best candidate for the 2021 Alaska Bird of the Year. I really know Alaska. After all, I live my whole life here. I'm also the Alaska state bird, which clearly makes me the most Alaskan bird out of all the candidates. I adapt my appearance to each season so well that I am perfectly camouflaged throughout the year. In the winter, I'm as white as snow and wear feathery boots that keep me warm and help me get around easily—just like snowshoes. In the summer, I am a lovely mottled brown color to blend in with thickets of dwarf willow on the Arctic tundra. Some may call me a master of disguise. Don't get me wrong, I'm not trying to avoid you; I love you humans. From what I hear, many of you love us too—some in ways that make me a little uncomfortable. But I understand being an important food source for local Indigenous communities is a noble role for us to play. As Bird of the Year, I will advocate for all bird species that help support a thriving Arctic ecosystem for birds, people, and other mammals. |
| Photo: Mick Thompson. | VARIED THRUSH: Hello! No, no, over here in the dense thickets of the forest floor deep in the Tongass National Forest. What, you don't see me? That's OK, I don't mind not being seen as long as you can hear me. I'm a Varied Thrush. Are you listening? I have a lovely—albeit slightly haunting—song to share. You see, my habitat is at risk of being cut down, and that makes me nervous. The Tongass is a climate stronghold for many species—myself included. Without its big old trees, we'd be in serious trouble. In fact, the entire planet would be affected. See, these trees are able to take carbon out of the air and replace it with lots of fresh oxygen for all of us to breathe. Isn't that amazing? They're good for the atmosphere and a great place for me to hide from people! As the 2021 Alaska Bird of the Year, I'd advocate for the use of natural climate solutions to help combat the terrible climate crisis we're facing. That's all you need to know for now. Goodbye! |
| Photo: Milo Burcham. | RUDDY TURNSTONE: Greetings! I am just arriving in Alaska again after some international traveling. I consider myself a bird of the world and an avian of culture. I'm a Ruddy Turnstone. Don't let my short, chunky stature fool you; I am quite the athlete, if I do say so myself. It's something I picked up when I was young. About 21 days old, actually. I guess you could call me a bit of a prodigy. It was then when I flew on my first migration journey from my birthplace near Teshekpuk Lake in Alaska all the way to New Zealand. And I only stopped briefly to catch my breath and refuel. Sleep is for the weak, after all! Ever since, I've been making the trip back and forth every year, traveling some 6,500 miles each way. When you are a world class traveler like me, you really come to appreciate first-class migratory rest stops like Bristol Bay for both their food abundance and their safety. As the next Alaska Bird of the Year, I will advocate for all of the migrant species and the places they need most. |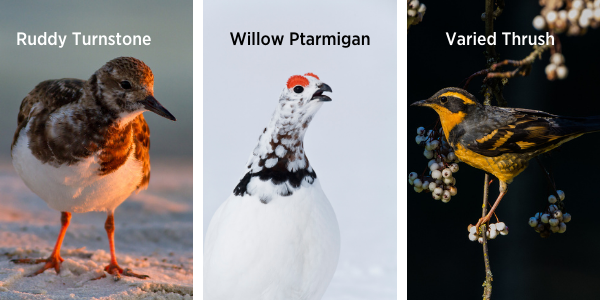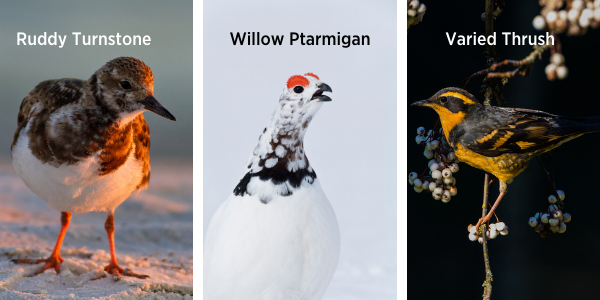 Vote for the 2021 Alaska Bird of the Year!
Vote for the 2021 Alaska Bird of the Year!
Who will be our next bird of the year? You can help us decide.
How you can help, right now
Donate to Audubon
Help secure the future for birds at risk from climate change, habitat loss and other threats. Your support will power our science, education, advocacy and on-the-ground conservation efforts.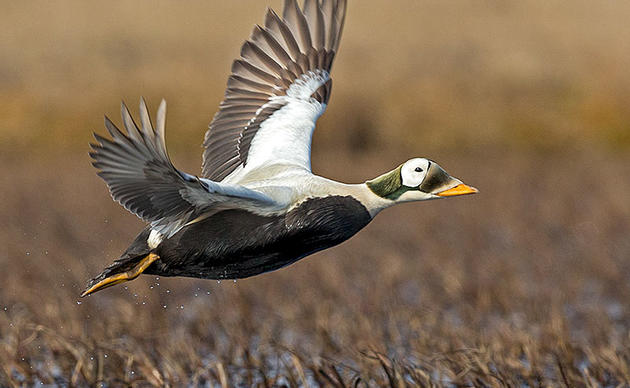 1% for the Planet
We are proud to be part of the 1% for the Planet network. If you own a business, please consider joining 1% for the Planet to support Audubon Alaska's conservation efforts.