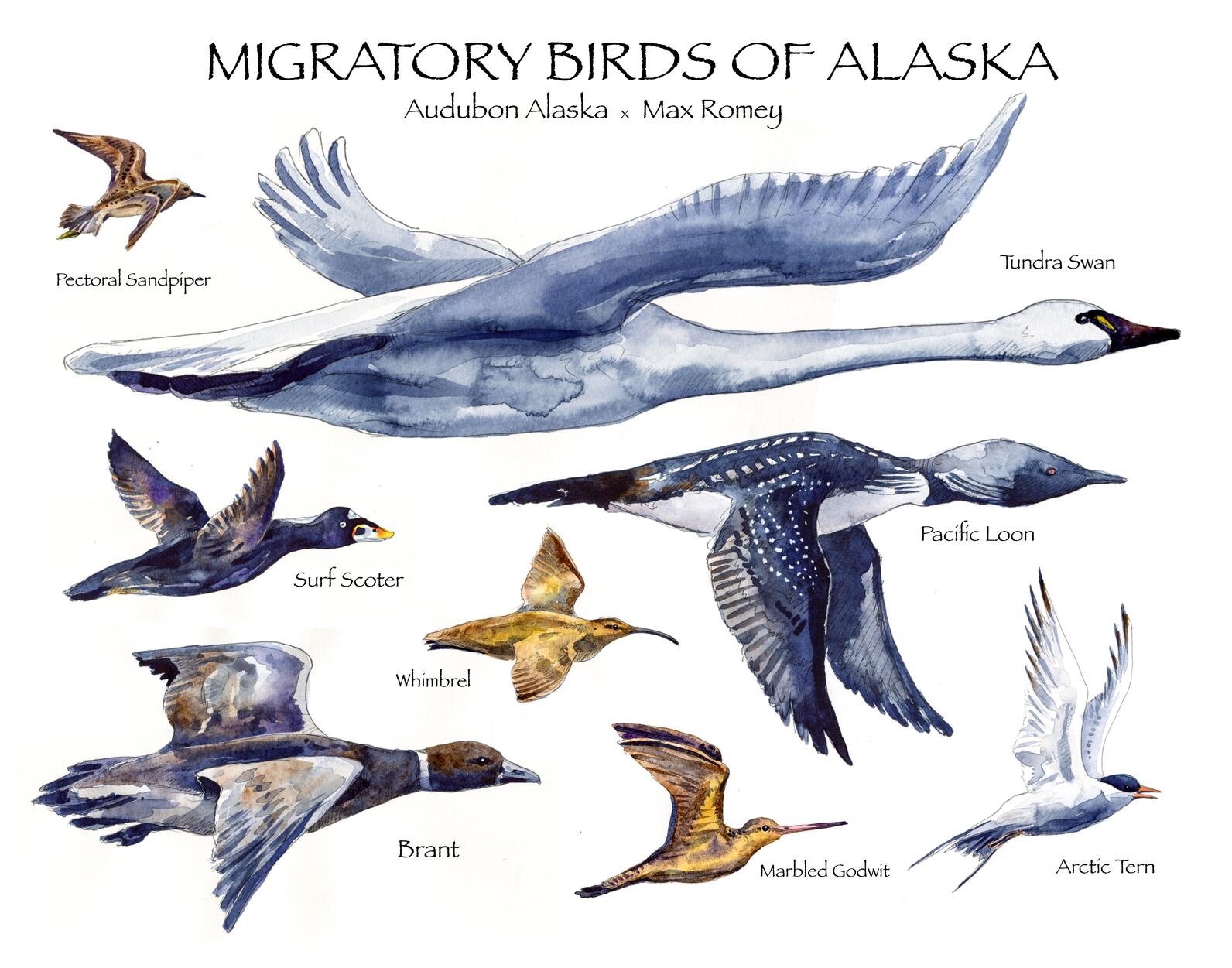 Audubon Alaska is celebrating Migratory Bird Day with the help of Alaskan artist and filmmaker Max Romey.
Alaska is one of the most important places in the world with nearly 5 billion birds traveling to our great state during their spring migration each year to feed, breed, and nest. Nearly 250 species rely on vital habitat that is currently underthreat from issues such as climate change, industrial-scale logging, oil and gas development.
Max created two bespoke illustrations (along with brilliant social media creative) that features eight special migratory birds and their epic journeys they undertake to a few of our key conservation area.
The second poster showcases eggs of both migratory and resident birds, some of which are found on our 2017 WatchList and are especially vulnerable to external threats.
You can pre-order a 11x14 limited edition print today by emailing audubonalaska@audubon.org and each limited edition is signed by Max and printed on heavyweight watercolor paper for $45 each.
Half of all proceeds go to Audubon Alaska to help protect Alaska's birds through our research, policy and advocacy work.
Migratory Birds and Conservation Areas featured on Alaska's Migratory Birds Print:
Arctic (Arctic Refuge & Western Arctic)
· Whimbrel: ~8,000 miles round trip from the East Coast of Mexico to the North Slope
· Pectoral Sandpiper: ~1,800 miles round trip from Argentina to the Arctic Refuge
Izembek National Wildlife Refuge
· Brant: ~8,500 miles round trip from Washington State to the Arctic Archipelago (Northern Canada)
· Arctic Tern: ~30,000 miles round trip from Antarctic to Izembek
Bristol Bay
· Tundra Swan: ~8,000 miles round trip from Central California to Bristol Bay
· Marbled Godwit: ~5,000 miles round trip from Washington, Oregon and Central California to Bristol Bay
Tongass National Forest
· Surf Scoter: ~8,000 miles round trip from Baja to the Tongass and Northwestern Canada
· Pacific Loon: ~6,000 miles round trip Baja California to the Yukon Delta